SOMA Housing Co-Op News
October 2020
Community Led Housing - Update coming soon .......
The UK Government has decided to back community led housing with a grant of £163 million (
link to details on the .Gov.uk web site)
. Oxfordshire will get access to a part of this fund, amounting to £63m across Oxfordshire.
On their web site you will find all the information available about the fund including, Community Housing Fund prospectus, Community Housing Fund - Know Your Customer Guidance, Community Housing Fund addendum, Homes England bidding portal guidance, Community Housing Fund terms and conditions.
Under Phase One of the Fund, Homes England is making available grants to eligible organisations to support:
applications for revenue funding for capacity building and
predevelopment costs,
including revenue grants to local authorities to support community groups capital bids for
associated infrastructure costs which will support community housing development
Under Phase Two of the Fund Homes England is making available grants to eligible organisations to help cover the capital costs of acquiring land and building community-led housing schemes.
A recent meeting with representative from OCLT let SOMA know that there is assistance from the group who are presenting them selves as a local HUB providing knowledge about Community Led Housing including how to access the current Government grant. A report on this meeting will be available for the next Management Committee meeting in January 2019 and it will be made available to the public shortly afterwards, via this web site.
Older information
about
Community Led Housing in Oxfordshire
Notice
It is vitally important that those members wishing to be involved do come along to meetings so they can have their say in the day to day management decisions and the development of the group.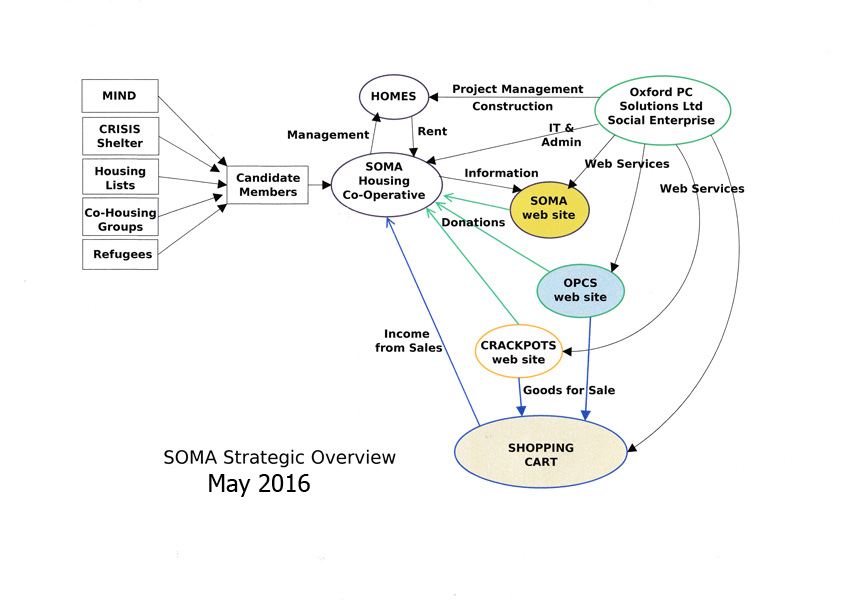 Above is a
A Flow Diagram showing in SOMA's Financial Strategy as at May 2016
Previous Page This Page Next Page