Meetings
Aplogies
The years has seen several upheavals and everyone has had far too many things to do outside of SOMA, so the meetngs and everything else has gone by the way, unfortunately.
COVID pandemic and lockdown level 3 being considered, we are back in business with details of our next meetings arranged below
Management Committee Meetings
The next
Management Committee Meeting
will take place on
Friday 30th October 2020
Location: Probably Freyda's house starting at 6:30pm if possible, or 7:00pm otherwise. For Freyda's address please see below.
Ordinary General Meetings
Ordinary General Meetings were until COVID and lockdown were held on every 2nd Wednesday of every other month.
The next
OGM will take place in November 2020, the time has not yet been established
Location: Probably Freyda's house. (COVID restrictions on gatherings not preventing) at 80 Ulfgar Road, Wolvercote, Oxford. OX2 8BA We are hoping that we will be able to return to having regular and more frequent meetings. We want every one to be involved because only you know what type of housing you ideally want to live in. Do you want to grow organic veg on a small holding or is this type of life style not going to suit you because you are single and work and play in the city. Some of our members want to live on narrow boats and would like to get involved in an ecological enterprise, like woodland management and eco tourism. What is your bag ? See the latest
PLAN B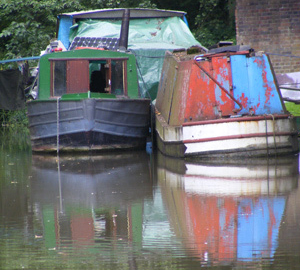 some of SOMA members live on narrow boats similar to these photographed on the Oxford Canal at Wolvercote.