Plans and Drawings
Page 1
This page contains plans and drawings which have come about during the process of becoming a registered housing co-operative. Some are speculative, being attempts to define what we are now doing and so they provide a kind of time line of the development of our thought processes. Hopefully as time goes by more will be added which get down to the details and will explain in a few pictures where a thousand words would only be incomprehensible.
Photo Galleries 1 to 15
The photos in this series were taken on 24th January 2020. They are the first steps in producing a site survey and have been divided into 15 groups, each of which tries to give an impression of the features at 15 different locations on the 5 acre site. For convenience the images are presented here as Galleries 1 to 15.
One of the first impressions is that the land has been used for none agricultural purposes over many years and as a consequence it has been misused. There is evidence of dumping of a variety of waste materials and there are numerous rubber tyres remaining from when the site was used as a scrambler track for motor bikes.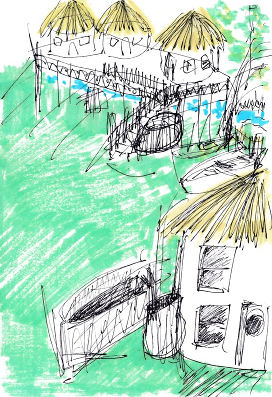 Also illustrated above is part of Oxford PC Solutions plan for combating flooding by repopulating the woodlands and river margins with dwellings for rural workers. The strategy intends to avoid the obvious pitfalls which are holding back economic development. ie; The lack of affordable homes in the locality, very limited public transport systems in rural parts creating difficulties getting to work, combined with very low wages for many rural workers.