SOMA Housing Co-Operative Ltd
AIMS & OBJECTIVES
We want to build our own eco houses and live in sustainable communities, NOT just social housing on an estate.
SOMA intends to be a social landlord for disadvantaged people by providing secure accommodation at affordable rents.
SOMA members want to grow their own food and manage the community sustainably by providing for their own power and water requirements ie; water supply and waste treatment.
The intention is to help disadvantaged people to help themselves with their housing needs and also with their social and spiritual aspirations. Consequently SOMA will endeavour to provide such support that the members and community might require. This may be as communal spaces and shared facilities like transport and communications and is not limited to rooms for communal eating, meetings, etc.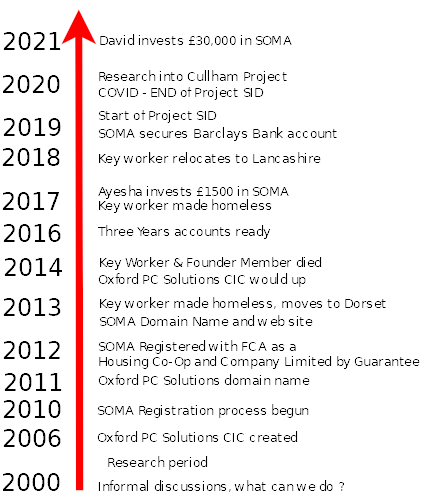 SOMA Time Line 2000 to 2021